World Ocean Day 2022 is coming up on Wednesday, 8 June. We all want to bring up environmentally aware little citizens so this is the perfect opportunity to foster their love of the sea.
As we get set for an action-packed Hong Kong summer full of lazy beach days, junk boat adventures and more than one day trip to Lamma, Cheung Chau or Peng Chau islands, Hong Kong's intrinsic link to the ocean becomes pretty clear! From its origins as a fishing village to today's metropolis on the harbour, we owe the ocean everything. She drives climate, stabilizes temperature, provides most of our oxygen and shapes the earth's chemistry. She provides the fish we eat, the air we breathe, the water we drink and cleans the atmosphere. But development, pollution and over-fishing is putting our ocean at risk. It's a human problem that needs a human solution. That's where we come in! To celebrate World Ocean Day 2022, we're bringing you five fun activities to teach our kids the value of our ocean and how to take care of her.
Read More: Best Beaches In Hong Kong To Visit With Your Family
---
1. Plan A Plastic Free Picnic For World Ocean Day
Plastic pollution is the ocean's biggest environmental problem. Humans are polluting the seas at an alarming rate with 8 million tons of plastic being dumped in the ocean every year. That's the equivalent of on full dump truck of plastic every minute.
Challenge your kids to create a picnic by the sea using no plastic. Think a picnic rug and cloth napkins, glass bottles and containers, candles, crockery and silverware, or a plastic free lunch box for the kids. With this set-up, it's sure to be a special occasion. You'll be the classiest picnickers on the beach!
Read More: 8 Easy Ways To Lower Your Family's Carbon Footprint
---
2. Gamify Your Beach Make-Over For World Ocean Day
We're re-branding beach cleanups so you don't skip right over this idea because beach cleanups are a whole lot of fun! Make it a game and challenge your little ones to fill up a bag for a prize or make it a competition between friends or siblings. Who can fill it the fastest? Who can find the most straws? Blue items? Footwear! It's lovely patrolling the seaside together, discovering the strange objects that are washed up onshore. It also brings about a whole new level of awareness regarding the proper disposal of garbage. Recycling in Hong Kong has never been so important.
Read More: Hong Kong Junk Boat Trips: Family-Friendly Boat Rentals
---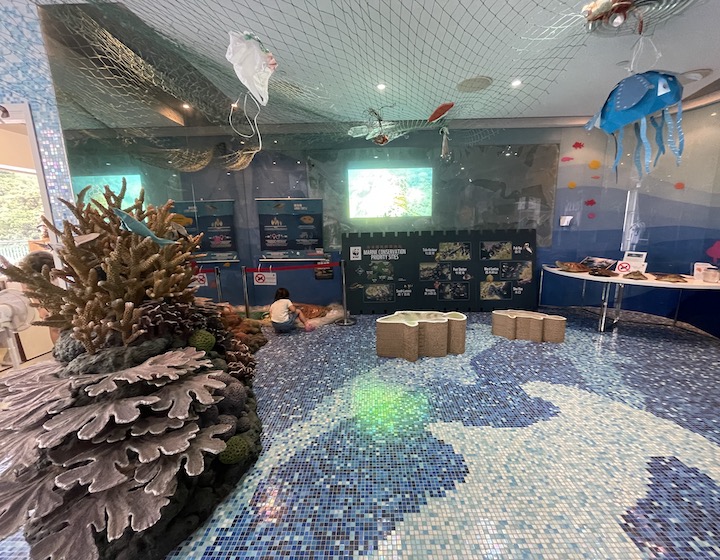 3. Visit A Marine Park At Hoi Ha Marine Park
Visiting a museum with the kids in Hong Kong is always fun, and the outdoor adventures are no exception! Open Wednesdays to Sundays, your family can take a tour of the research and education centre at Hoi Ha Marine Park and then ride on their glass-bottomed boat. Kids really get a kick out of seeing the fish and corals in the underwater world below them. And it's great to show your support for Hong Kong's first Marine Protected Area. World Wildlife Fund (WWF) has a list of eco-visits available.
Read More: Sai Kung Neighbourhood Guide For Families
---
4. Blue-Themed World Ocean Day Movie Night
Films like "Finding Nemo" are an effortless way of helping younger children to relate to the underwater world. After one (or 100!) viewings they'll be passionate about the sea because they want to save Nemo and Dory.
Sitting down with older kids to watch more confronting documentaries like "A Plastic Ocean" or BBC's "Blue Planet" series is an easy way of educating them about the beauty and threats to the ocean. Afterwards, take time to discuss with them the ways in which you can change your own behaviour to make a positive impact. We love the list by Plastic Free Seas that you can use for inspiration and discussion points.
Read More: Family-Friendly Movies And Shows To Watch On Disney+ Hong Kong
---
5. Source Your Sustainable Seafood
With Hong Kong being the second-largest consumer of seafood in Asia, we can make a real impact on restoring local fish stock by supporting sustainable fisheries. You can do this by buying the right type of seafood from the right sources. But how do we know what's right?
Use the WWF's online Seafood Guide to create a poster with your kids. Have them draw or cut out pictures of the good, okay and bad fish to buy and post it on your fridge for easy reference. Let them be as creative as they like. Maybe they will put glitter on the good fish or put big red crosses through the bad ones. It's a great activity in research, grouping things, drawing and using their letters. There is also a Hong Kong WWF sponsored supermarket ratings list for more sustainable shopping.
Read More: Best Zero-Waste Stores In Hong Kong: Sustainable Choices For Families